Curls….love them or hate them! Where do you stand?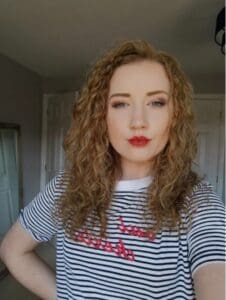 Those of us with curly hair are always seeking out new ways to control waves, coils, kinks, spirals, S-bends and naturally textured hair. Some of us decide to leave our hair do its own thing instead of opting to style or straighten it.
When blogger Sophie decided she no longer wanted to fight her curls but to embrace them, she asked Stafford Street's Leigh for tips and guidance on how to work with its texture. The results are fantastic!
In her first blog you can read all about Sophie's reasons for embracing her curls. Her second blog reveals all the advice and techniques she was given from Leigh, and the products that worked for her curly hair.
Prior to applying the colour, Leigh used an Olaplex treatment to help repair and protect the damaged and broken bonds in Sophie's hair. She then applied Majirel copper tones in foils with a Dialight gentle toner that was taken through the mid-lengths and ends to diffuse the 'lockdown' root and tone in Sophie's blonde.
Sophie's hair was shampooed with Charlie Miller Hydrate Shampoo and Conditioner for added moisture. To help control the curls she also had a Curl Manifesto Instant Treatment from the new Curl Manifesto range by Kérastase.
Before being diffused dry, Sophie's hair was then twisted with Charlie Miller Gloss Oil mixed with Shu Uemura's Kengo Feather. Leigh finished the look with a little more Charlie Miller Gloss Oil to shake out the curls once the hair was dry. Embracing your curls in 2021 can lead to beautiful results!!
To keep up to date with all things Charlie Miller, make sure you are following us on our social channels. Follow us on Facebook, Instagram and Twitter. To find your nearest salon click here.
You can shop our full haircare range online here, or on Amazon UK.