Leave a Comment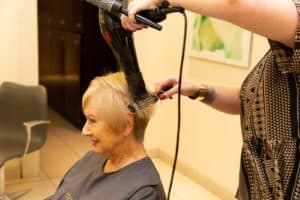 As Linda and Hannah celebrate a decade of a successful client and stylist partnership. They reflect on why their relationship works and what they love about one another!
Linda says:
"I discovered Hannah when she took over from my previous colour stylist at Charlie Miller. Although Hannah has been colouring my hair for the last 9 years, I have my hair styled and cut by India.  
I've been a client at Charlie Miller for about 20 years.  In 1998 I moved from the south of England (where I had been to Molton Brown and Michael John in London,) to Cumbria and until 2010 used to come up from the Lake District every 6 weeks to Charlie Miller for cut and colour.  From 2010 I've lived in Edinburgh and Peebles which makes visits much easier!
Hannah's attention to detail is superb yet she's always keen to exchange news about what's happening in her life and mine. Hannah is warm, friendly and very professional. My favourite thing about having my hair done is enjoying the friendly atmosphere and knowing I will leave the salon looking better than when I arrived!"
Hannah on styling Linda's Hair:
"I feel I have a lovely relationship with Linda and look forward to her visits. She is stylish, glamorous and elegant. I always love hearing what she has been up to! I have been styling Linda's hair for 10 years and while we have kept the colour of her hair similar, we've changed up the style!"
Appointments with Hannah can be booked online or by calling our Frederick Street salon. We look forward to welcoming you to the salon soon.
Keep up to date with all things Charlie Miller and Charlie Miller Haircare on Instagram.